Railway Crossing Cottage, Donegal Town, Co. Donegal
Railway Crossing Cottage is an attractive cottage in a wooded setting, in a very good location on the outskirts of  Donegal town. The property is beautifully maintained with a lovely traditional exterior and very tasteful touches of modernisation inside. From the moment you step into the garden and hear the birds singing there is a real sense of peace and tranquility. It's also a convenient location for exploring  County Donegal. It is a real privilege to have access to a property like this, it really is one of a kind.
Spend the afternoon reading in the beautiful garden.
Exploring the mountains, lakes, rivers and beaches in Co. Donegal
1 Double Bedroom (small double 4 foot bed)
Suitable for adults only
Underfloor Electric Heating
Open Fire in living area
Electric Oven
Microwave
Under counter fridge
Towels and Linens Provided
Hair Dryer
Iron & Ironing Board
Cooking Utensils and Equipment
1 Bathroom – shower head over bath
Living Area
Large Garden
Radio
Car Parking
Our buildings were made to the standards of earlier times – and sometimes without the intention that they should be lived in.  Consequently, you may encounter features that reflect their particular character but that deserve due care and attention, particularly by the young, elderly, less mobile or visually impaired.  
The bathtub and shower are small and inaccessible for those with mobility issues.
Irish Landmark properties that welcome a pet may not have secure enclosures.  You must supervise your pet during your stay.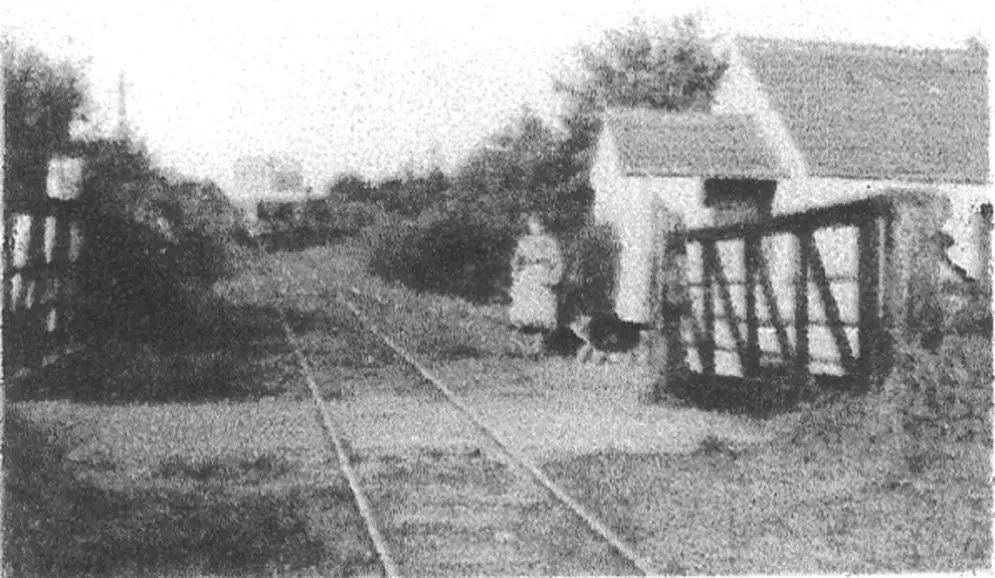 The cottage was 'Gate House No.9' because it's the ninth crossing cottage on the Killybegs branch of the County Donegal Railway when it was opened in 1893.  Generically, these cottages are always called 'railway-crossing cottages', and in the literature are called "crossing cottages" or 'gatehouses" or 'crossings" or simply 'gates'.
The cottage was originally constructed in c.1892/93 (the Killybegs branch of the County Donegal Railway opened in 1893) and through the years was inhabited by a succession of families up until the late 1970s, when it seems to have become abandoned.
Jack & Connie Denne purchased the cottage about 30 years ago.  Connie's grandmother was the wife of one of the 'gate-keepers'.  They restored it very carefully and authentically, while at the same time making it suitable for modern living.
The large gate in the front of the cottage is a replica of the original gate, but for convenience has been mounted differently.  The original was hinged to the wall on the right side (facing the building) and swung across the road to block traffic as the train came through.   Opposite, on the other side of the road, another gate would have swung open to block traffic coming from the other direction.  That gate is long gone.
Six trains daily (three round trips) passed through these gates going to and from Killybegs.
HOW TO BOOK AN IRISH LANDMARK HOLIDAY :
It is possible to reserve dates online at www.irishlandmark.com but bookings are not confirmed until a confirmation email is received from the bookings desk.
BOOKING:  
Your booking must be for holiday purposes only.  Irish Landmark reserve the right to refuse hire for purposes other than holiday accommodation. When you make a booking, you accept full responsibility for all persons who will use or visit the property during the period booked.  When you book, you agree to indemnify us against all loss and damage arising directly or indirectly to the property and its contents from any deliberate or negligent act or omission by yourself, or any person accompanying you.
CONTRACT OF HIRE:
The hiring contract shall be between the Hirer and Irish Landmark and made subject to these Booking Conditions . The Contract of Hire is not effective until Irish Landmark dispatches to the Hirer written confirmation of a booking.
Click arrival date for cost of stay
"Thank you so much for having us at the Railway cottage. Our stay was superb. The cottage itself was beautiful, and the grounds were lovely. We had fantastic evenings in front of the fire and the underfloor heating was a welcome touch in the mornings and helped keep the cottage lovely and warm. The location was superb as well. 2 KM into Donegal's town centre, and an hour's drive to a host of Donegal's best attractions. We added on an extra night, as we were so delighted with our stay. Thank You." 
"This a charming cottage for two with a fabulous and beautifully kept garden. It has everything two people might need and is in a quiet and secluded location though only 2 km from Donegal town with all its shops and restaurants. We would strongly recommend it to other couples looking for a quiet and attractive self-catering location."
Gerard Boyle is the House Manager at Railway Crossing Cottage. Gerard loves to welcome guests and tell them about the best things to do in the area.