Wicklow Head Lighthouse, Co. Wicklow.
The phrase "once in a lifetime" is thrown around a lot but this really is one! You will never get an experience quite like staying in a lighthouse dating back to 1781 with incredible views and a secret seal beach nearby.  
Staying at the Wicklow Head Lighthouse is an unforgettable experience for the bucket list, with stunning sea views and a palpable sense of history. It's a good spot for stargazing and the location will enable you to visit the spectacular sites of Glendalough, Avoca and the Wicklow Mountains. You will experience all sorts of weather, so come prepared!
Sitting in the thick windowsills looking down the coastline and marveling at the view
Spotting seals bobbing in the Irish Sea.  
Storm-hunting in wild weather and having a bird's eye view of the elements!
2 Double Bedrooms
Electric Storage Heating
Electric Oven
Microwave
Fridge/Freezer
Towels and Linens Provided
Travel cot/crib for infants (under 2 years), on request
Hair Dryer
Cooking Utensils and Equipment
1 Bathroom with overhead shower
Separate WC (located on ground floor)
Sitting Room
Radio
Car Parking
There are 109 steps  to the kitchen, which is on the top floor. Once at the top, the views are breathtaking!
There is no dishwasher or washing machine at this property.
This property is surrounded by sea on three sides. There are cliffs nearby and children should be supervised at all times.
Please note that occasional outdoor events take place at lighthouse properties from time to time throughout the year.
Please note:  Irish Landmark properties that welcome a pet may not have secure enclosures.  It is vital that you supervise your pet during your stay
WiFi Free Zone:  Irish Landmark believes that digital detox is good for the mind, body and soul.  This is why Irish Landmark properties advocate the properties in our care as WiFi and television free zones. Reconnecting with our lives, nature, our surroundings, books, as well as family and friends, is vital for a happy life. This continues to make us very proud and happy to be a WiFi Free Zone.
Please note:  Irish Landmark properties that welcome a pet may not have secure enclosures.  It is vital that you supervise your pet during your stay
A contribution towards energy fees is applied to all bookings.   As a not for profit organisation, this fee makes a significant contribution to energy costs.   It is our aim to reduce our energy consumption at all self catering properties and encourage guests to reuse, reduce, recycle.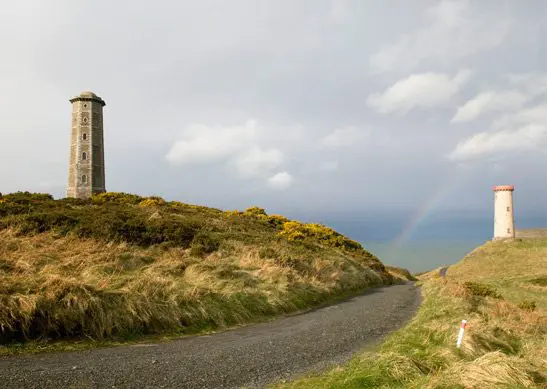 The restoration of Wicklow Head Lighthouse was one of the last projects of the architect, Maura Shaffrey.  The philosophy behind the brief and that of The Irish Landmark Trust, echoed one which Maura had promoted and practised throughout her career, and long before it had become popular or accepted in this country.  This philosophy acknowledged the intrinsic value of our architectural heritage, including its historic and social aspects, but, above all, the particular quality of fabric, form and scale which imbues its aesthetic worth.  It sought to retain these qualities and weave new uses into existing buildings without diluting their essence.  It was not a rigid doctrine which aimed to preserve all in aspic, nor was it one which bowed to the kitsch or the pastiche.  It embraced the demands to incorporate modern facilities sympathetically and took them on board as a challenge in proving the economic viability and future sustainability of retaining and reviving existing buildings.
However, Maura's approach was equally strict on issues such as materials and finishes, insisting that only compatible materials should be used.  Behind this 'rule' was a depth of knowledge and passion.  Maura's last article, before her untimely death, examined the future of the vernacular house and set out a practical and benign approach to 'upgrading', incorporating extensions, etc., as necessary.
The Irish Landmark Trust acquired Wicklow Lighthouse in 1996, and set about conserving the tower.  This involved re-plastering the internal and external walls, making and fitting 27 windows, wiring, plumbing, flooring and installing a water pumping system.  When the stairs and timber floors were in situ, a series of 6 octagonal rooms were arranged vertically.  Although the rooms are small, they have high arched windows set into walls which are almost a metre thick.
All the windows were newly made in accordance with traditional joinery practices.  Double-glazing was used to counteract the high winds and exposed location of the lighthouse.  Blinds for the windows had to be fitted, as it was required that they should be closed at night lest the lights from the lighthouse confuse ships around the headland.  The arched head on the windows meant that special blinds were needed.  These were handmade from various coloured sail fabric and attached to the windows with brass fittings.  Because the blinds are flush to the windows, it means that the window alcove becomes a useable space, even at night when the blinds are closed.
All the walls were painted white, and this gives the building an almost contemporary feel.  It was decided to furnish the lighthouse in a minimalist fashion.  This was further consolidated by the fact that all of the furniture had to be either built in-situ, or else dismantled to bring it up the winding 109 steps to the top.
Because no one had ever lived in the lighthouse, there was no evidence as to how it might have been furnished.  Therefore, the furniture selected is, in general, quite simple with a nautical theme.   The mosaic tiles on the bathroom floor were influenced by similar samples found in other lighthouses.
HOW TO BOOK AN IRISH LANDMARK HOLIDAY :
It is possible to reserve dates online at www.irishlandmark.com but bookings are not confirmed until a confirmation email is received from the bookings desk.
BOOKING:  
Your booking must be for holiday purposes only.  Irish Landmark reserve the right to refuse hire for purposes other than holiday accommodation. When you make a booking, you accept full responsibility for all persons who will use or visit the property during the period booked.  When you book, you agree to indemnify us against all loss and damage arising directly or indirectly to the property and its contents from any deliberate or negligent act or omission by yourself, or any person accompanying you.
CONTRACT OF HIRE:
The hiring contract shall be between the Hirer and Irish Landmark and made subject to these Booking Conditions . The Contract of Hire is not effective until Irish Landmark dispatches to the Hirer written confirmation of a booking.
See calendar below for availability.

Note: 2-night minimum stay.
"It's a must for the bucket list! We tried different seasons and none disappointed, every time was special. The shorter days and wilder weather in Winter is an experience not to be missed. Summertime is beautiful too and you have to capture the dawn and sunset on the horizon. Every day is different and well worth getting up very early for.. If you're seeking a super special heritage place to experience this is it!" (GMcNally).
High Point of a month long trip
"Wander alone along the cliffs amidst the sounds of seabirds or perch in a window to watch the rising sun illuminate a fox's morning prowl. From a month long trip around Ireland, a country brimming with stunning vistas, fascinating stories and warm people, this is the one memory I will carry home closest to my heart." (Blanton)
Brendan is the House Manager at Wicklow Lighthouse. Brendan grew up at the Lighthouse station and the Conway family have been custodians of the lighthouse in one way or another for over 30 years. Brendan loves to meet guests and tell them about the best things to do in the local area.