Triumphal Arch Lodge, Co. Fermanagh 
Triumphal Arch Lodge is a beautiful, historic Gatelodge brimming with character in the heart of Co. Fermanagh. This is an area of outstanding natural beauty and is only a short distance from the tranquillity of beautiful Lough Erne. 
The Lodge is located on the Colebrook Park Estate, home to red squirrels, deer, sheep, and otters, the Colebrook river, and beautiful mature trees. Guests can enjoy watching the sunrise from the forest and the sunset over the rolling hills. A break at Triumphal Arch Gatelodge is a wonderful step back into past times.
Climbing to the summit of the Cuilcagh Mountain (otherwise known as the 'Stairway to Heaven' or, 'Stairway to Hell' depending on your level of fitness!).
Soaking in the extra-long roll top bath.
Guests to the Lodge can enjoy a host of outdoor activities. There is abundant wildlife including red squirrels, kingfishers, otters, pine martens, and woodpeckers. There is even a deer hide for watching deer close up.
2 Double Bedrooms
Open Fire in Sitting Room
Underfloor Heating
Electric Oven
Microwave
Fridge
Towels and Linens Provided
Travel cot/crib for infants (under 2 years), on request
Hair Dryer
Iron and Ironing Board
Cooking Utensils
1 Bathroom with bath tub
Sitting Room
Garden and Garden Furniture
Radio
Car Parking
The property is pet friendly but is located beside a road and fields with sheep and other wildlife.
Irish Landmark Trust has teamed up with Co. Down based food company Hara at Home to offer guests the option to pre-order a premium meal delivery service at Triumphal Arch Lodge. Visit www.shophara-food.com to have a look and make your selection for the date required. Order and make payment directly with Hara at Home. 
Please see FAQ for further details.
WiFi Free Zone:  Irish Landmark believes that digital detox is good for the mind, body and soul.  This is why Irish Landmark properties advocate the properties in our care as WiFi and television free zones. Reconnecting with our lives, nature, our surroundings, books, as well as family and friends, is vital for a happy life. This continues to make us very proud and happy to be a WiFi Free Zone.
Guests to the Lodge can enjoy a host of outdoor activities.  There is abundant wildlife including red squirrels, kingfishers, otters, pine martens and woodpeckers and even a deer hide for watching deer close up.
A contribution towards energy fees is applied to all bookings.   As a not for profit organisation, this fee makes a significant contribution to energy costs.   It is our aim to reduce our energy consumption at all self catering properties and encourage guests to reuse, reduce, recycle.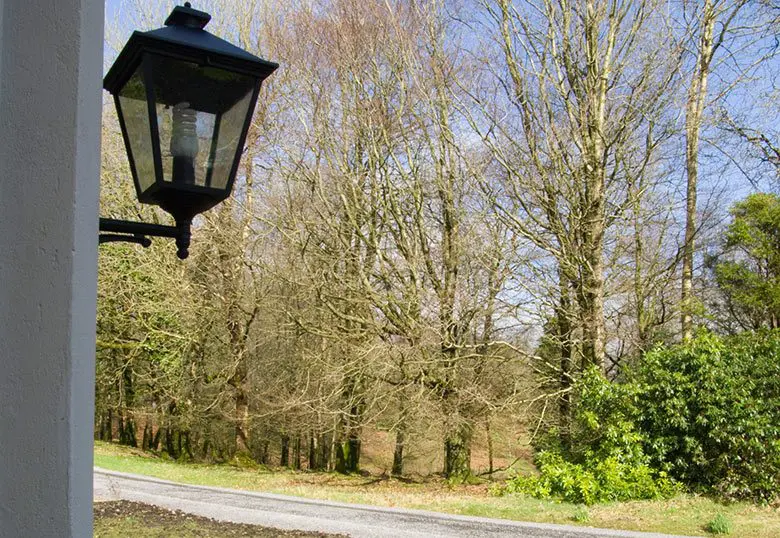 Triumphal Arch Lodge is a Grade B Listed Building and is part of the Colebrooke Estate.  The estate has a long history dating back to the 1640s when a large portion of confiscated land at Brookeborough was given to the Brooke family as a reward for services during the 1641 rebellion.  The estate has remained in the Brooke family ever since and has been home to many notable military and public figures including Field Marshal Viscount Alan Brooke and Northern Ireland Prime Minister Basil Brooke, 1943 -1963.
In 1786 the post Chaise Companion described Colebrooke as "a very fine and delightful seat" but Sir Henry Brooke had grand plans for this wooded demesne and from 1819 the eminent Dublin architect William Farrell was commissioned to redesign the main house, park and estate buildings including two gatelodges one with an ambitious entrance arch.
The gatelodge and Triumphal Arch entrance were designed to complement the great house beyond and make an impressive approach to the estate, while at the same time showing the taste of the Brookes and acting as an introduction to the grandeur that was to come.
HOW TO BOOK AN IRISH LANDMARK HOLIDAY :
It is possible to reserve dates online at www.irishlandmark.com but bookings are not confirmed until a confirmation email is received from the bookings desk.
BOOKING:  
Your booking must be for holiday purposes only.  Irish Landmark reserve the right to refuse hire for purposes other than holiday accommodation. When you make a booking, you accept full responsibility for all persons who will use or visit the property during the period booked.  When you book, you agree to indemnify us against all loss and damage arising directly or indirectly to the property and its contents from any deliberate or negligent act or omission by yourself, or any person accompanying you.
CONTRACT OF HIRE:
The hiring contract shall be between the Hirer and Irish Landmark and made subject to these Booking Conditions . The Contract of Hire is not effective until Irish Landmark dispatches to the Hirer written confirmation of a booking.
Click arrival date for cost of stay
Triumphal stay at Triumphal Arch
"A special place in a great location, made even better by house manager Louise, who was so friendly and attentive. We saw jazz at the local theatre, pottered around Enniskillen, and visited Florence Court, The Argory, and Castle Coole. Slept like a baby for four nights in really comfy beds!" 
"From the head office staff to the local manager the service is second to none and the standards high. The lodge provides a wonderful blend of stepping back in time with all the modern-day necessities. A great location So peaceful and relaxing. We will return again and again." 
Louise McCarney is the House Manager at Triumphal Arch Lodge. Louise loves to welcome guests and show them around the property and advise on the best attractions in the local area.