Termon House, Dungloe, Co. Donegal.
Termon House is set on a stunning beachfront location, along the Wild Atlantic Way. Experience the weft and weave of history in this unique property with bags of history and character. Located right on the edge of the Atlantic Ocean with stunning sea views and beautiful sandy beaches (ideal for a morning dip) on your doorstep. You will be taken by the silence, the scenery and remoteness. It's a place that is good for the soul and the ideal place for a 'get away from it all' holiday.
Wild and windy on the outside 
Warm and cosy on the inside
Two beautiful beaches on your doorstep 
2 Double Bedrooms (one is accessed through the twin room)
1 Twin Bedroom
Oil Fired Central Heating
Open Fire in Sitting Room
Electric cooker and stove top
Microwave
Dishwasher
Washing Machine
Fridge only, no freezer
Towel and Linens are provided
Travel cot/crib for infants (under 2 years), on request
Iron & Ironing Board
Cooking Utensils and Equipment
1 Bathroom
1 Separate Shower Room
Sitting Room
Garden and Garden Furniture
Set right on beachfront
Radio
Car Parking
Please note that there is no wifi at this property.
All bedrooms are located upstairs at this property and this may not suit all guests. 
Please note that this property is located right on the beach front so children must be supervised at all times. Irish Landmark properties that welcome a pet may not have secure enclosures.  It is important that you supervise your pet during your stay
WiFi Free Zone:  Irish Landmark believes that digital detox is good for the mind, body and soul.  This is why Irish Landmark properties advocate the properties in our care as WiFi and television free zones. Reconnecting with our lives, nature, our surroundings, books, as well as family and friends, is vital for a happy life. This continues to make us very proud and happy to be a WiFi Free Zone.
Please note that this property is located right on the beach front so children must be supervised at all times. Irish Landmark properties that welcome a pet may not have secure enclosures.  It is vital that you supervise your pet during your stay
A contribution towards energy fees is applied to all bookings.   As a not for profit organisation, this fee makes a significant contribution to energy costs.   It is our aim to reduce our energy consumption at all self catering properties and encourage guests to reuse, reduce, recycle.
Termon House was built by the Marquis Conyngham in the 1770s for his agent, but archaeological remains in the immediate surroundings (an old lime kiln and the remains of a clachan) indicate a much older occupancy.
The house has a stormy history. Local anecdotes and archaeological evidence present a picture of absenteeism, land clearance, and emigration. A beautiful and unique defensive Famine Wall still surrounds the house. The wall, a unique vernacular structure, was built around the house as the final public works project designed to alleviate suffering during the famine in 1847.
The Story of Termon House
Termon House is an 18th century house built, it is understood, by Marquis Conyngham or his predecessor, Montgomery, for his land agent, whose duty it was to collect rent from the local tenants on behalf of the absentee landlord.
There is some confusion over the occupancy of Termon before and during the time of the Famine.  The land around the house seems to have belonged to the Church of Ireland.  The Reverand James Crawford lived at the Rectory in Maghery, recognisable today in the centre of the village, for three years until his death in 1779.  He was buried in the church at Templecrone (Saint Crona's Monastery) which is visible across the field to the front of Termon House.  The Reverend Thomas Steward lived in Maghery until 1803 when Reverend Alexander Montgomery replaced him.
Reverend Valentine Griffith, the Rector at the height of the famine years, 1845-1850, was one of the leading members of the Famine Relief Committee.  As a means of feeding the famine-stricken local population, he used an initiative whereby the government offered half a stone of meal and a shilling per person a week to build 'the famine walls' which surrounded the Church of Ireland land around the house.
There is a mass famine grave outside the ruined Protestant graveyard across the fields from Termon.  It was here that the Catholics who were left at Griffith's doorstep during the famine are buried.
It may be that the 2nd Marquis of Conyngham's agent, Robert Russell, lived either at Termon or at Lackbeg House from 1833 to 1847.  He was notoriously ruthless from the first potato harvest failure in 1845 thorughout the famine years when others, such as the clergy, doctor and other agents, were active with groups such as the Quakers on Relief Committees.
In the late 19th century Mr. James O'Donnell bought the house and land.  He and his family lived there for many years.  During that time he sold much of his land to different families who built their own houses in Termon over the century.  James O'Donnell died in the 1920s, and his family sold the property to a Mr. Gallagher (a native of Maghery who had returned to Dungloe after many years in America).
The ownership of the house changed again in the 1970s, and then the surrounding land was bought by a Mr. Doherty, who to this day uses the land for cattle grazing and the barns for storage of hay, etc.
HOW TO BOOK AN IRISH LANDMARK HOLIDAY :
It is possible to reserve dates online at www.irishlandmark.com but bookings are not confirmed until a confirmation email is received from the bookings desk.
BOOKING:  
Your booking must be for holiday purposes only.  Irish Landmark reserve the right to refuse hire for purposes other than holiday accommodation. When you make a booking, you accept full responsibility for all persons who will use or visit the property during the period booked.  When you book, you agree to indemnify us against all loss and damage arising directly or indirectly to the property and its contents from any deliberate or negligent act or omission by yourself, or any person accompanying you.
CONTRACT OF HIRE:
The hiring contract shall be between the Hirer and Irish Landmark and made subject to these Booking Conditions . The Contract of Hire is not effective until Irish Landmark dispatches to the Hirer written confirmation of a booking.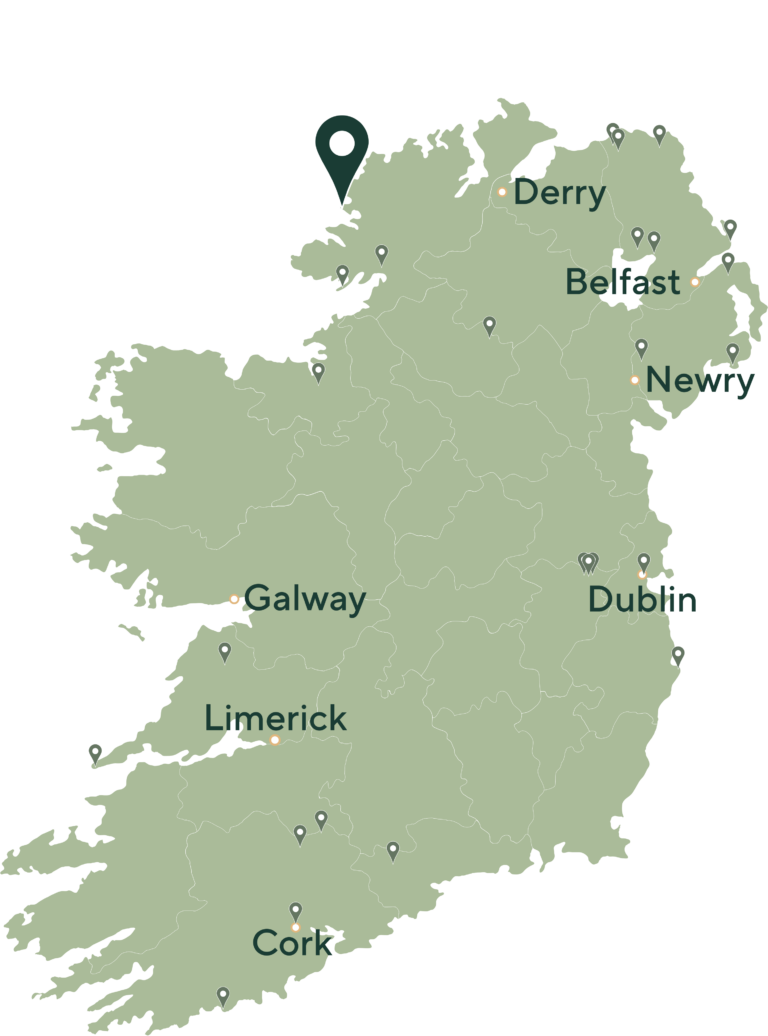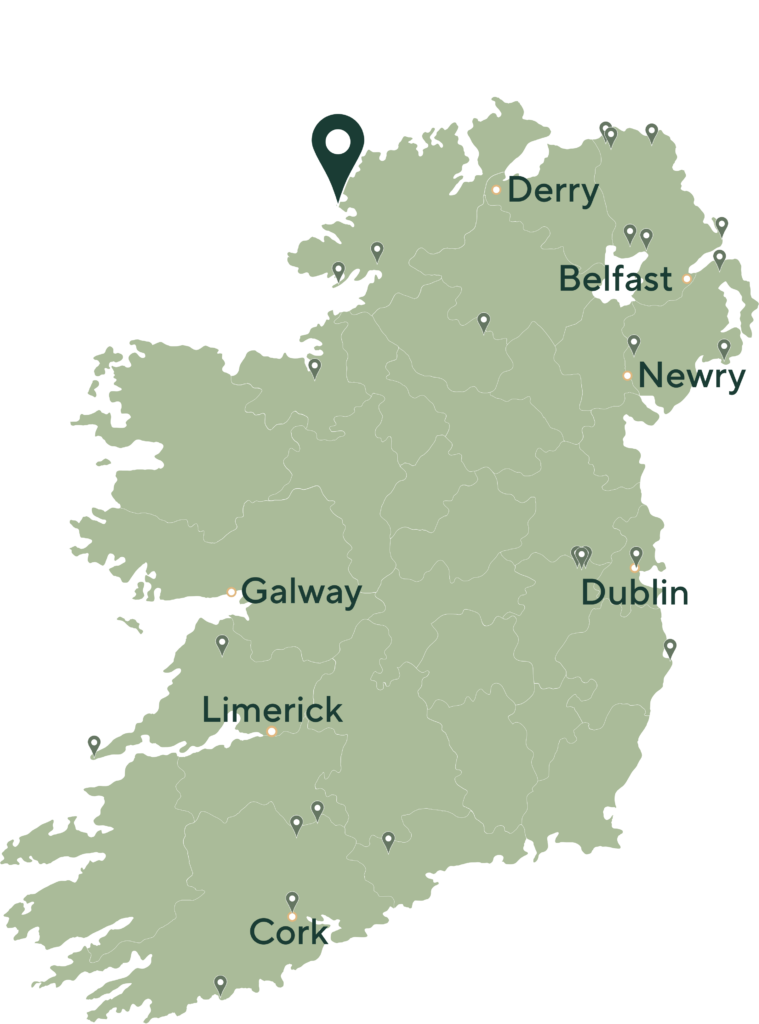 Click arrival date for cost of stay
"It was exhilarating to arrive to a beautifully situated house in a most scenic location on the Donegal coastline. The property is of another world…. quirky, something to catch the eye around every corner, and the views from every window are breath-taking. (Off season sea views would be awesome) .The beautiful beach is a short 15min walk/2min drive. Termon House is very well equipped with all necessary needs for short/long-haul stay. Dungloe town is 7/8 minute drive. It's well worth the experience, whatever the weather. Our canine had a great time." 
"We absolutely loved our break in Termon House. The peace and tranquillity was great, it's a great base for exploring Donegal, the scenery around the house is beautiful with a sandy beach, a stony beach and a lovely pub within a five minute walk of the house. Claire has the house in top condition and we can't wait to get back there. The fact that there's no TV or WIFI was a great break from both."