The Schoolhouse at Annaghmore, Colloney, Co. Sligo
From the moment you arrive, you will be utterly charmed by this wonderful little house. It has a fascinating history, it is warm and welcoming and it is set in a great location. The Schoolhouse at Annaghmore was built in the 1860s to educate local children. Nowadays its cosy vestibule leads through to a light-filled sitting room where an open fire adds a welcoming glow.
Although in the heart of the countryside, the Schoolhouse is close to Sligo town where bustling streets are peppered with small boutiques, cafes, and bars, as well as a myriad of craft shops selling jewellery, pottery, and knitwear. Strandhill, Mullaghmore, and Enniscrone are within driving distance as are Lissadel House and the final resting place of W.B Yeats.
The Schoolhouse is well located and there is plenty to do within driving distance. 
Nearby Cooloney has a lovely café "Nádúr", there is also "Shells" and "Stoked" in glorious Strandhill.  
The famous "Voya" seaweed baths are located in Strandhill which is a fifteen minute drive.
2 double bedrooms
Oil Fired Central Heating
Open Fire in Sitting Room
Electric Oven
Microwave
Dish Washer
Washer/Dryer
Fridge
Towel and Linens provided
Travel cot/crib for infants (under 2 years), on request
Hair Dryer
Iron and Ironing Board
Cooking Utensils and Equipment
1 Bathroom with bath tub
Separate Shower Room downstairs
Sitting Room
Garden and Patio with garden furniture
River located nearby
Radio
Car parking
There is a bat colony in the Summer season. This can be a bonus for nature lovers!
No pets are permitted at the Schoolhouse at Annaghmore.
This property is located in a woodland area beside a river and guests are advised that there is wildlife, including bats and deer, around the property.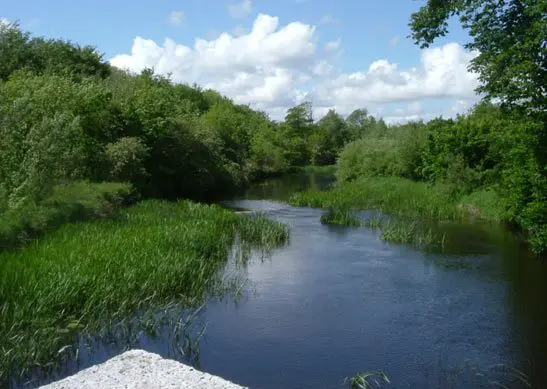 Built in the 1860s, The Schoolhouse, Annaghmore is an attractive rural building picturesquely located by the Owenmore River and surrounded by mature woodland. The building retains many original decorative features including ornamental wooden bargeboards and lattice windows surmounted by wooden hood mouldings. The most striking feature is the projecting oriel window on the upper east gable.The L-shaped one and a half storey building originally comprised of a two-storey accommodation area (the schoolmaster's residence) and a double height schoolroom. Some 19th Century schoolhouse furnishings still survive including the schoolhouse fireplace, coat hooks and chalkboards.
This charming rural schoolhouse on the Annaghmore Estate which has been owned by the O'Hara family for several centuries, features distinctively Tudor Revival decorative elements. Built in the 1860s  as a school for the  estate  tenants' children, it  is  an attractive  rural  building  picturesquely  located on the banks of the Owenmore river  and  surrounded by  mature  woodland.
There is local folklore surrounding the last tenant of the schoolhouse. Hughie Savage was a bachelor who farmed on the other side of the Owenmore river and kept cattle in the mountains.  He lived at Annaghmore without electricity or running water and did not have a bank account.  He kept all his money in a tin box which legend says is still buried somewhere at Annaghmore since it has never been found!
HOW TO BOOK AN IRISH LANDMARK HOLIDAY :
It is possible to reserve dates online at www.irishlandmark.com but bookings are not confirmed until a confirmation email is received from the bookings desk.
BOOKING:  
Your booking must be for holiday purposes only.  Irish Landmark reserve the right to refuse hire for purposes other than holiday accommodation. When you make a booking, you accept full responsibility for all persons who will use or visit the property during the period booked.  When you book, you agree to indemnify us against all loss and damage arising directly or indirectly to the property and its contents from any deliberate or negligent act or omission by yourself, or any person accompanying you.
CONTRACT OF HIRE:
The hiring contract shall be between the Hirer and Irish Landmark and made subject to these Booking Conditions . The Contract of Hire is not effective until Irish Landmark dispatches to the Hirer written confirmation of a booking.
Click arrival date for cost of stay
"The Schoolhouse at Annaghmore is a beautiful house. It is in a wonderful location. The condition of the house is impeccable and exceeded our expectations. We would recommend this house to anyone who is seeking peace and tranquility." (A Balfe)
"We thoroughly enjoyed our stay at The Schoolhouse – a beautifully presented building that was a joy to spend two nights in. Gorgeous gardens and we loved the stillness and quiet surrounding us. The property itself was spotless and oh so charming." (MReidy).
Sarah Melvin is the House Manager at Annaghmore Schoolhouse. Sarah loves to welcome guests and tell them about the history of the building and advise on the best places to visit in the area.
Local Area Highlights.
Sligo Folk Park

Carrowmore Megalithic  Site