Salterbridge Gatelodge, Co. Waterford
Salterbridge Gatelodge is a beautifully restored classical gate lodge that was built c1849.
The Lodge is just a short distance from both Lismore and Cappoquin. A fifteen-minute drive gets you to Dungarvan with its many restaurants and the Deise Greenway.
The surrounding countryside is beautiful, the Lodge has a cosy, comfortable vibe and it is tastefully furnished and well-equipped. Some people have described it as one of the best hideaway retreats in the Southeast.
The incredible drive through the VEE on the way to Salterbridge. Like nothing on earth.  
Lighting the stove and curling up on the couch with a nice book.
Using the Lodge as a base to explore The Vee Valley, The Nire Valley, The Copper Coast, The Blueway, The Greenway, the Youghal beach boardwalk, the Mahon Falls, The Towers, Dromana, Lismore, Dungarvan and Cappoquin. 
1 Double Bedroom
Underfloor Heating
Wood Burning Stove
Electric Oven
Microwave
Fridge/Freezer
Towels and Linens Provided
Travel cot/crib for infants (under 2 years), on request
Hair Dryer
Iron & Ironing Board
Cooking Utensils and Equipment
1 Bathroom with bath tub and overhead shower
Sitting Room with Wood Burning Stove
Garden with Garden Furniture
Radio
Car Parking
There is no wifi  at the Lodge.
The Lodge is beside a busy road and you can hear traffic driving past. On the plus side the location means you have easy access to getting out and about during the day for daytours.
WiFi Free Zone: Irish Landmark believes that digital detox is good for the mind, body and soul. This is why Irish Landmark properties advocate the properties in our care as WiFi and television free zones. Reconnecting with our lives, nature, our surroundings, books, as well as family and friends, is vital for a happy life. This continues to make us very proud and happy to be a WiFi Free Zone.
Please note: Irish Landmark properties that welcome a pet may not have secure enclosures. It is vital that you supervise your pet during your stay
A contribution towards energy fees is applied to all bookings. As a not for profit organisation, this fee makes a significant contribution to energy costs. It is our aim to reduce our energy consumption at all self catering properties and encourage guests to reuse, reduce, recycle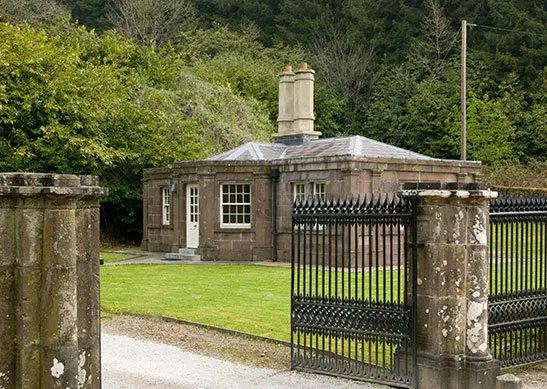 Salterbridge is a classically proportioned pavilion gatelodge, which was built c.1849 by the Chearnly family, who owned the estate from the mid 18th Century until the 1950s. The lodge, though obviously in habitation in the 1930s when the Glanville family lived there, was derelict by the 1950s.    Its function, like all gatelodges, was to indicate to the passer-by the good standing and taste of the original owner, and to display some of the features of the architect's work, re-interpreted from the big house.
HOW TO BOOK AN IRISH LANDMARK HOLIDAY :
It is possible to reserve dates online at www.irishlandmark.com but bookings are not confirmed until a confirmation email is received from the bookings desk.
BOOKING:  
Your booking must be for holiday purposes only.  Irish Landmark reserve the right to refuse hire for purposes other than holiday accommodation. When you make a booking, you accept full responsibility for all persons who will use or visit the property during the period booked.  When you book, you agree to indemnify us against all loss and damage arising directly or indirectly to the property and its contents from any deliberate or negligent act or omission by yourself, or any person accompanying you.
CONTRACT OF HIRE:
The hiring contract shall be between the Hirer and Irish Landmark and made subject to these Booking Conditions . The Contract of Hire is not effective until Irish Landmark dispatches to the Hirer written confirmation of a booking.
Click arrival date for cost of stay
Ideal for exploring surrounding areas
"All seamless from booking to welcome. The gate lodge has been sympathetically restored and we loved staying in such an historical building. The location was ideal to explore the Waterford Greenway, Dungarvan and surrounds. There is loads to do. The gate lodge had everything we needed and it was lovely to take a digital break too." (SBuschange)
"We really enjoyed our stay in Salterbridge Lodge. It is so cosy with underfloor heating and the wood burning stove, which was lighting when we arrived on a wet January day, thank you Maro! There's lots to see and do in this area. We would love to come back and explore some more." (A Foley)
Maro Kingston is the House Manager at Salterbridge Gateloge. Maro loves to welcome guests and tell them about the best places to visit in the local area.