Inchiquin House, Corofin, Co. Clare
Inchiquin House is an elegant period home, tucked away in the west of Ireland not far from the Wild Atlantic Way. It is the perfect base from which to explore the unique Burren landscape and all of the wonderful attractions of County Clare. Staying at Inchiquin is a pure delight. It has comfortable beds in spacious rooms, all beautifully appointed.
It has a cosy living room to gather in and a formal dining room for dinner. It is possible to book a local chef to do the cooking, so you can have a truly relaxing break! It also has a fully modern kitchen with large French doors leading out to a wonderful patio area and garden. It is an ideal place for a gathering of friends and family.
Stargazing at night where the sky is crystal clear.
Dining al fresco on the patio.
The peace and quiet of this wonderful location.
Lighting a roaring fire and curling up in the wintertime.
It is possible to book a chef to do the cooking at Inchiquin, so you can have a truly relaxing break.
3 Double Bedrooms 
2 Twin Rooms
Oil-Fired Central Heating
Open Fire in Living Room
Large Professionally Equipped Kitchen with Oven, Gas Hob, and Range
Microwave
Dish Washer
Washing Machine
Dryer
Fridge and Freezer
Towels and Linens Provided
Travel cot/crib for infants (under 2 years), on request
Hair Dryer
Iron & Ironing Board
Cooking Utensils and Equipment
4 Bathrooms
Drawing Room
Formal Dining Room
Garden and Patio with Garden Furniture
Internet
Radio
Car Parking
1 dog permitted
This property is suitable for the Assisted Disabled.
Inchiquin House is located on a working farm so please ensure to drive with care and keep gates closed. There are two speed ramps on the avenue approaching this property so guests are asked to please drive with care.
Irish Landmark properties that welcome a pet may not have secure enclosures. It is vital that you supervise your pet during your stay.
Click arrival date for cost of stay
Great Weekend with old friends
"Could not have been better for a chill weekend in the heart of the country & beside the Wonderous Burren, Anne gave us a lovely welcome & topped that off with fab scones , We even managed to get a photo of our Non Paying Guest ( The Pinemartin) without disturbing him and if you are an early riser , put the boots on and take a strole in the field at the Patio and look at the Rabbits raise their curios heads at you , its a trull lovely spot & to be honest a bit of a find that I dont like sharing with too Many . Well Done Irish Land mark Trust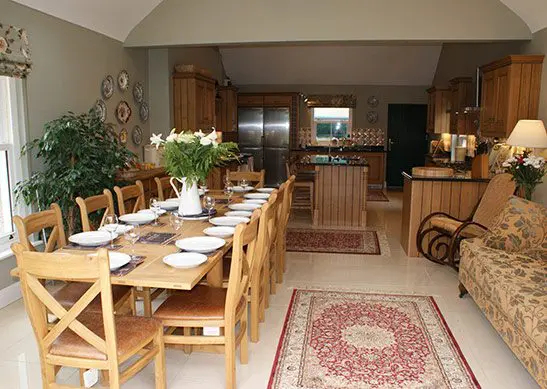 The name Inchiquin comes from an island (Inis in Irish) of the O'Quin family, one of whom was killed at the battle of of Clontarf with Brian Boru in 1014.  The house itself is thought to have been built around 1800 (some say even earlier), and is marked as 'Inchiquin Cottage' in the first edition of the Ordnance Survey map of around 1840.  At that stage, the line of out-houses to the north of the house originally turned briefly southwards, but no trace of that remains overground.  The two story building on a raised platform overlooking the house was constructed as a granary (with outside stairs on the west wall).  The back part of the house, including the present kitchen and back bedrooms is a later addition, the date of which is unknown.
The name of the builder of the original house is not recorded – but the Owens family were among the owners in the middle of the nineteen century, though the links with the famous Chevalier O'Gorman rest on shaky foundations.  Subsequently, Cahirs, Bloods, Markahans and McGann – some of which are still resident in the locality – were in possession until the house was bought around 1910 by Col. John Macnamara, who had come from having served as a doctor in the Indian Medical Corps and whose family were doctors in and for Corofin from 1836 to 2006.  He himself never lived in the house, renting it out in turn to his brother-in-law, Walter Perman (an Englishman whose car was taken by the IRA during the Civil War and who returned to his native country because he feared for his life was in danger) and Turlough O'Bryen, a famous bee-keeper who cycled around Ireland teaching people about bees, and who kept hives in the field in front of the house.
After the setting up of the State in 1922, the Land Commission set to work to divide up the larger country estates in order to give holdings to poorer farmers.  Col. John Macnamara's holding reached down to the lake, but all his land between lake and road were taken away, as was land to the village side of the property in return for Land Bonds which turned out to have little or no value. What was left was about 40 acres of arable land and 65 of scrub and woodland which still belongs to the house, now reachable by an avenue about half a mile long.
When Col. Macnamara died in 1932 he left the house and remaining land to his wife of twelve years, Gertrude Macnamara (neé McDermot) whose father had been a doctor in County Roscommon. She continued to farm (partially with the help of her nephew Desmond McSherry, whose name is fondly remembered in the area) and on her death in 1967, she bequeathed it to her niece (Desmond's sister) Sheelagh, who had been as good as a daughter to the childless couple. Sheelagh was married to James Austin Harbison, Medical Officor at first of Co Kildare, then for County Dublin and finally for Dublin City.  He died a year after Gertrude Macnamara. Sheelagh Harbison owned the house until her death in 2012 at the great age of 98.  Austin and Sheelagh's sons are Dr. John Harbison, formerly the State Pathologist (1974-2002) and Dr. Peter Harbison, archeologist and art-historian.  Peter is now the owner of Inchiquin House and his sons John, Maurice and Ronan have taken responsibility for Inchiquin's future.
HOW TO BOOK AN IRISH LANDMARK HOLIDAY :
It is possible to reserve dates online at www.irishlandmark.com but bookings are not confirmed until a confirmation email is received from the bookings desk.
BOOKING:  
Your booking must be for holiday purposes only.  Irish Landmark reserve the right to refuse hire for purposes other than holiday accommodation. When you make a booking, you accept full responsibility for all persons who will use or visit the property during the period booked.  When you book, you agree to indemnify us against all loss and damage arising directly or indirectly to the property and its contents from any deliberate or negligent act or omission by yourself, or any person accompanying you.
CONTRACT OF HIRE:
The hiring contract shall be between the Hirer and Irish Landmark and made subject to these Booking Conditions . The Contract of Hire is not effective until Irish Landmark dispatches to the Hirer written confirmation of a booking.
Like coming home again ( if I had notions!)
"Fabulous stay again in Inchiquin House. Anne always has the house in perfect condition and is so welcoming and friendly. It is extremely well equipped, so much so that, if we are there in the winter we may not leave the house for the duration of out stay! We have been going there since 2015 and it is such a great location for us, as we are spread throughout the country. I highly recommend it"
Debbie Pennill is the House Manger at Inchiquin. Debbie loves to meet guests and tell them about the best things to do in the local area.
Local Attractions