Galley Head Lightkeeper's House, Co. Cork
This is one of two houses on the Lighthouse station at Galley Head. This very special place is full of character and the magnificent views are ever-changing.
Less than half an hour from Clonakilty, Galley Head Lighthouse is located on a headland on the Atlantic Ocean. The sea views, the isolation and the light punctuating the sky over the sea and land at night are major reasons to stay at Galley Head.
If you are lucky enough to stay here, take the time to soak it all in and you will come away more relaxed than you have ever been.
The views from every angle are awe inspiring and breathtaking.
Galley Head lighthouse station is close to the award – winning village of Clonakilty.  This vibrant market town is a must see for tourists.
Guests can enjoy a wide range of activities from dolphin and whale watching, surfing at Inchydoney.
1 Double Bedroom
1 Twin Bedroom
Oil Fired Central Heating
Open Fire in Sitting Room
Wonderful Sea Views from Kitchen
Electric Oven
Microwave
Dishwasher
Washer/Dryer
Fridge/Freezer
Towels and Linens Provided
Travel cot/crib for infants (under 2 years), on request
Hair Dryer
Iron and Ironing Board
Cooking Utensils and Equipment
1 Bathroom with Bath Tub
Separate downstairs shower room
Garden with Garden Furniture
Sea Views
Radio
Car Parking
There are cliffs nearby and children should be supervised at all times.
This property is located at the end of a headland, therefore water pressure in the Showers is low as water cannot be pumped for a high-pressure shower
Please note that occasional outdoor events take place at lighthouse properties from time to time throughout the year.
The access road to the Lighthouse can be in disrepair from time to time. This access roadway is not property of Irish Landmark Trust and maintenance is out of our control.
WiFi Free Zone:  Irish Landmark believes that digital detox is good for the mind, body and soul.  This is why Irish Landmark properties advocate the properties in our care as WiFi and television free zones. Reconnecting with our lives, nature, our surroundings, books, as well as family and friends, is vital for a happy life. This continues to make us very proud and happy to be a WiFi Free Zone.
Special Notes:
There are cliffs nearby and children should be supervised at all times.
Please note that occasional outdoor events take place at lighthouse properties from time to time throughout the year.
A contribution towards energy fees is applied to all bookings.   As a not for profit organisation, this fee makes a significant contribution to energy costs.   It is our aim to reduce our energy consumption at all self catering properties and encourage guests to reuse, reduce, recycle.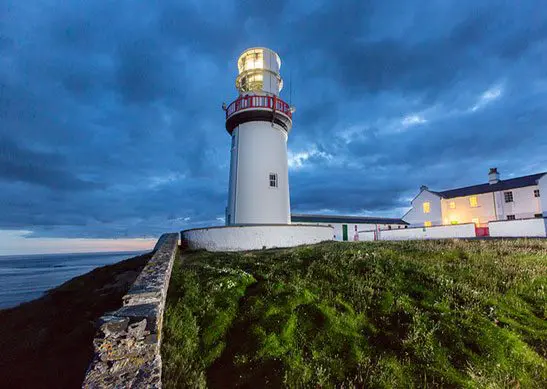 The station was built in 1875, during the heyday of lighthouse building, and within twenty years of its closest neighbours at Old Head of Kinsale and Fastnet.  The lighthouse displays an unusual landward arc of light because, it is said, the Sultan of Turkey asked to be able to see it from nearby Castle Freke at Rosscarbery whle on a visit there.  The house at Castle Freke, abandoned in 1952, can now be seen from Galley as a gothic ruin.
The two keepers' houses at Galley Head, were taken on by Irish Landmark in the final years of the 20th century.  Lightkeepers who lived here would have witnessed the tragic loss of the  Lusitania in 1915, and sighted a German ship carrying arms, in disguise as a Norwegian steam, being pursued up the St. George's Channel by British destroyers a year later.  It is also said that Ray Bradbury based his melancholy story "The Fog Horn" on a reported sighting of  a sea serpent at Galley in 1860.
The station consists of a tower connected by a 38 metre corridor to the semi-detached, two-storey, dwelling, originally built for the principal and assistant keeper, a single-storey dwelling for the gas maker. The two houses have been restored to their original symmetrical layout and make an ideal retreat for a family break.
HOW TO BOOK AN IRISH LANDMARK HOLIDAY :
It is possible to reserve dates online at www.irishlandmark.com but bookings are not confirmed until a confirmation email is received from the bookings desk.
BOOKING:  
Your booking must be for holiday purposes only.  Irish Landmark reserve the right to refuse hire for purposes other than holiday accommodation. When you make a booking, you accept full responsibility for all persons who will use or visit the property during the period booked.  When you book, you agree to indemnify us against all loss and damage arising directly or indirectly to the property and its contents from any deliberate or negligent act or omission by yourself, or any person accompanying you.
CONTRACT OF HIRE:
The hiring contract shall be between the Hirer and Irish Landmark and made subject to these Booking Conditions . The Contract of Hire is not effective until Irish Landmark dispatches to the Hirer written confirmation of a booking.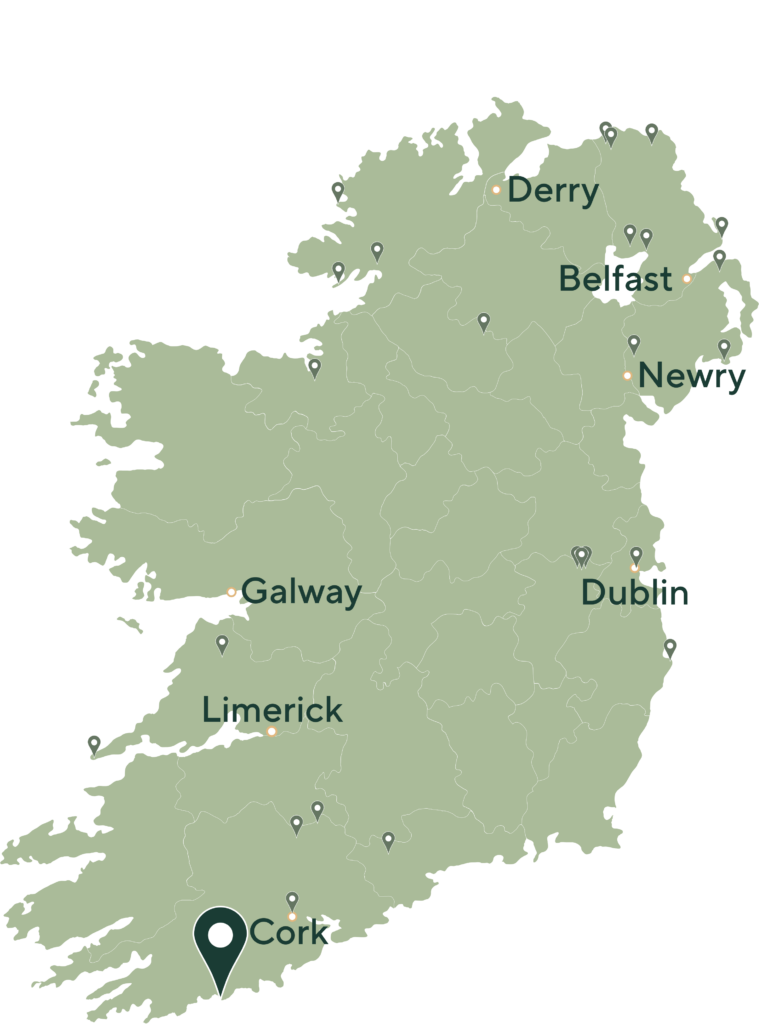 Click arrival date for cost of stay
Epic Tour and stay at the Galley Head Lighthouse
"Our trip to the Galley Head lighthouse is one of the most memorable experiences we have had on our trip to Ireland. Gerald Butler was an outstanding host and tour guide The house was very comfortable and clean. A very relaxing stay. At night watching the beams from the lighthouse and the millions of stars in the night sky was epic. The local scenery was breath-taking. My wife and I will definitely return and recommend to friends and family. Thanks a million for a great experience." 
"We spent a weekend at Galley Head Lighthouse in September 2021 – something we have wanted to do for a long time now. To say this is a special place is an understatement. The views are spectacular and ever changing, depending on the weather. The lighthouse itself is absolutely stunning and we were able to learn so much about it's history thanks to Gerald, the Lighthouse Keeper – an amazingly knowledgeable and interesting man. The property itself had absolutely everything you needed for a self-catering stay. It is spotlessly clean throughout and absolutely full of original character. If you are lucky enough to stay here, take the time to soak it all in. After 2 days here, we came away more relaxed than I ever thought possible, we have definitely left a little piece of our hearts behind." 
Gerald Butler is the House Manager at Galley Head House 2. Gerald grew up at Galley Head and was the Lightkeeper for many years. Gerald loves to meet guests and tell them the history of the Lighthouse.
Local Attractions