The Drum Gatelodge, Co. Antrim
The Drum Gatelodge is a unique and pretty two-storey Gatelodge. It was built at the end of a long avenue of beech trees at the western edge of the Ballylough Estate in 1800. It is situated on a quiet country road – and its rustic setting makes it an ideal romantic retreat from the stresses of everyday life. The property has underfloor heating with gas fired central heating. Located just outside Bushmills, it is an ideal base from which to explore the North Antrim Coast.
The peace and tranquillity of this Countryside location.
Spotting hares, rabbits and other wildlife just outside your door.
Visiting nearby Giants Causeway and all of the attractions of the beautiful North Antrim Coast. 
1 Double Bedroom
Gas Fired Central Heating
Peat Burning Stove in Sitting Room
Underfloor Heating
Electric Oven
Microwave
Fridge/Freezer
Towels and Linens Provided
Travel cot/crib for infants (under 2 years), on request
Iron & Ironing Board
Cooking Utensils and Equipment
1 Bathroom with Bath Tub
Sitting Room
Garden and Garden Furniture
Patio area
Countryside setting
Radio/CD Player
Car Parking
Guests to not have access to the private estate.
Please note:  Irish Landmark properties that welcome a pet may not have secure enclosures.  It is vital that you supervise your pet during your stay.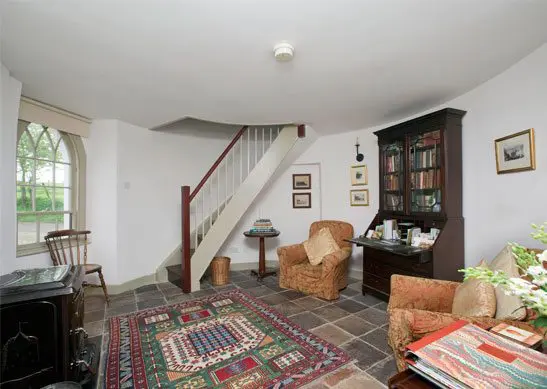 Archdeacon Traill, whose family still own the estate, built the Drum Gatelodge (also known as Ballylough West Lodge) at the end of a long avenue of beech trees at the western entrance to the Ballylough Estate in 1800. The Lodge was tiny, with two rooms linked by a stone staircase. It was a dwelling with no running water, an outside two-holer and you pumped your own water from the well on the opposite side of the avenue. It was always lived in by estate workers, but there are no records of the occupants prior to 1898 when Lizzie Taggart and her husband came to live there. Both of the Taggarts were employed on the estate, he as a farm labourer, and she as the 'hen girl' looking after the geese, ducks and hens.
Mr. Taggart died sometime between 1910-1920 leaving Lizzie with a family of two daughters, named Elizabeth and Martha, and a son called Joseph. Elizabeth married a Mr. Callaghan and went to live in nearby Castlecatt, where they had a family of four sons and a daughter. Martha moved to Cloughmills and married Mr. White, a farmer. Robbie (Robert), one of her children, was sent back to be reared by his grandmother at the lodge.  He was sent to the local school at Ballylough, became a bus driver, and lived at the lodge with his grandmother until her death in 1962.  Robbie then came to live in Bushmills, where he set up a small business in the Main Street, and died in his 70s.
Lizzie's son, Joseph, joined the Army at the outbreak of the First World War served in France, and married on his return. He was employed by local farmers and latterly worked with a local coal delivery firm. Joseph had two children, Joseph and Margaret. Joseph (junior) worked locally in Coleraine until the outbreak of the World War Two when he joined the Army.  He was stationed in Scotland where he met and married a local girl. He is still living in Scotland after 63 years - he and his wife are now in their mid 80s. Margaret worked in local factories as a seamstress, married Edward Crawford and had a family of four.
Lizzie Taggart herself was quite a character, Mrs. Shanks (who lived nearby as a child) has vivid recollections of her from as far back as the 1940's:
" My childhood was spent on a farm just along the road away from Bushmills, and I remember Mrs. Taggart and Robbie, her grandson, and their quaint home. We children spent the first few years of our school life (under the beady eye of Mrs Briggs!) at the wee two teacher school at Castlecatt. We had permission to take a short cut through the estate, and as we always walked to school, this saved some time and shoe leather. We passed right by the lodge twice a day and often saw and chatted to Mrs. Taggart. We knew that her name was Lizzie, but to us children, she was always Mrs. Taggart.
We were in no hurry on that homeward journey - we'd dawdle among the trees, pick the odd wild flower or play tag around the trees near the Lodge. Mrs. Taggart might have been feeding hens or carrying in water from the well, as we passed. Although kindly, Mrs. Taggart was fairly outspoken, and voiced her opinion when the occasion demanded it. My brother James and I, being the youngest, usually walked home together, and we still laugh about the time when he left me behind among the trees while he ran off without me. I was crying, so I was escorted into the Lodge with soothing noises and some tit bit or other, and James was sent off with her opinions ringing in his ears and no goodies!"
Lizzie's tenancy was from 1898 to 1962, and reports of her housekeeping show the great changes in domestic habits throughout her married life, as well as resourcefulness in bringing up a family in such a small space
She cooked on an open peat fire with a crook and hooks and a griddle, and made soda bread and potato cakes daily.
HOW TO BOOK AN IRISH LANDMARK HOLIDAY :
It is possible to reserve dates online at www.irishlandmark.com but bookings are not confirmed until a confirmation email is received from the bookings desk.
BOOKING:  
Your booking must be for holiday purposes only.  Irish Landmark reserve the right to refuse hire for purposes other than holiday accommodation. When you make a booking, you accept full responsibility for all persons who will use or visit the property during the period booked.  When you book, you agree to indemnify us against all loss and damage arising directly or indirectly to the property and its contents from any deliberate or negligent act or omission by yourself, or any person accompanying you.
CONTRACT OF HIRE:
The hiring contract shall be between the Hirer and Irish Landmark and made subject to these Booking Conditions . The Contract of Hire is not effective until Irish Landmark dispatches to the Hirer written confirmation of a booking.
Click arrival date for cost of stay
Great Escape to the Countryside
"Spent Easter weekend of 2022 in this gem of a house. It was a real treat and a great place to get away from wi-fi/ TV and other distractions in life. The house was spotless, cozy, warm, and ticked all other boxes. The turf burning stove got lit every night, more for effect that heat. I would suggest it to any one. It is located about 1.5K from the main road to Bushmills village and another 2 K to the Bushmills village. It is located on a quiet county back road that runs through beautiful fields with some local cows in the distance. Meet with Brenda at one point when she kindly dropped by and it was a pleasure to meet her. The kitchen has everything one needs including a French press for your morning coffee. Kitchen is snug but perfect for 2 people. The bed is a five foot wide bed and very comfortable. FYI: Mobile phone coverage is adequate for phone calls but not much else for those who don't want to disconnect from technology." 
A short break in the Drum
"Quirky, comfortable and cosy. This is a property which has been imaginatively extended and furnished, but has lost none of its original charm and character.The Drum part of the accommodation is furnished with some lovely period pieces and the peat burner adds to the atmosphere. It's located on a very quiet road within easy striking distance of many of the Antrim coast attractions. All in all, ideally suited for two people." 
Brenda Mc Clarty is the House Manager at the Drum Gatelodge. Brenda loves to welcome guests and tell them about the best things to do in the local area.