Barbican Gatelodge, Co. Antrim
Built in 1825, The Barbican Gatelodge is a miniature medieval castle. It is a perfect romantic hideaway in one of Ulster's oldest villages. The tower has a lovely rooftop terrace for a spot of al fresco dining. The kitchen is small but perfectly appointed for preparing simple meals and the welcoming fireside is a cosy spot to curl up with a good book. The bed is really comfortable and the deep bath is a pure luxury after a long day touring the Antrim Coast and Glens.
Dining al fresco on the roof at any time of the day and admire the gorgeous views of the River.
Taking a stroll through the walled garden and having tea in the tearooms in the old mushroom house at Glenarm Castle.
1 Double Bedroom – adults only
Gas Fired Central Heating
Wood burner in sitting/dining room
Electric Oven
Microwave
Utility Room with Washer/Dryer
Fridge/Freezer
Towels and Linens Provided
Hair Dryer
Iron and Ironing Board
Cooking Utensils and Equipment
1 Bathroom with roll top bath tub
Roof Terrace, with picnic table and views to sea
Radio
Car Parking for 1 car
The second floor of this property is accessed by a spiral staircase which guests with mobility issues may find challenging.
Outdoor events take place at Glenarm Castle and Estate throughout the year and this may impact your stay at Barbican.  Please ensure to check out their event page prior to booking.  http://www.glenarmcastle.com/upcoming-events
Irish Landmark Trust has teamed up with Co. Down based food company Hara at Home to offer guests the option to pre-order a premium meal delivery service at The Barbican Gatelodge. Visit www.shophara-food.com to have a look and make your selection for the date required. Order and make payment directly with Hara at Home. 
Please see FAQ for further details.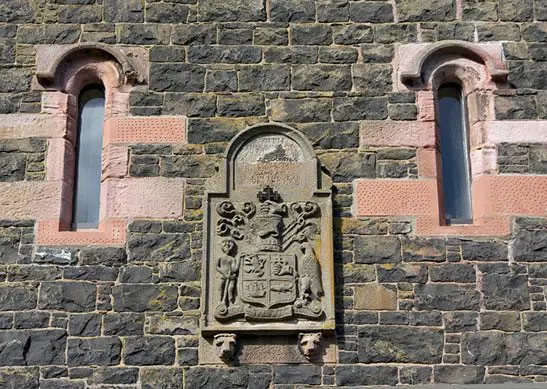 The story behind the building of this remarkable early nineteenth century gateway is a highly romantic one. Randal William McDonnell, the sixth earl of Antrim, died in 1791, leaving no sons, so his estates and titles were divided between his three daughters, with the proviso that these would all ultimately pass to their senior male offspring. One daughter died young of TB, and Anne Catherine, the eldest, was styled Countess of Antrim in her own right. She had the family seat at Glenarm, as well as a fine house in London, while Charlotte, her surviving younger sister, had a less certain future.
In 1799 both girls married. Anne Catherine's husband was a wealthy Englishman called Sir Harry Vane Tempest, but their only child was a girl, so the eldest son of Anne Catherine's younger sister, Charlotte, stood to inherit the whole property. Inevitably this was the cause of much friction. Sir Harry died in 1813, and four years later, in 1817 Anne Catherine fell in love with a man called Edmund Phelps. She married him within a month of their first meeting, which caused much amazement, as he was ten years her junior, and of humble origins. Edmund's mother kept a hat shop in Plymouth, his father was the local auctioneer, and he had previously been another peer's private secretary. He prudently changed his name from Phelps to McDonnell when he married Anne Catherine.
In fact Edmund was a remarkably positive influence. He made Anne Catherine sell her London house and live at Glenarm, so as to look after her estate properly, and in 1823 he commissioned a well-known Dublin architect called William Morrison to improve the property. Anne Catherine's first husband, Sir Harry, had already tried to turn the Palladian mansion into a castle by giving it Gothic windows and removing its colonnades, but Morrison's plans were more ambitious. He added towers to each corner of the house, as well as a substantial Elizabethan-looking wing, designed appropriate new facades, and turned the entrance gate into a medieval masterpiece.
The 'Barbican', as the entrance gate was named, had previously been a fairly simple one storey Palladian building overlooking the old bridge to the village, with a simple wall on either side running along the edge of the river. Morrison transformed this into a battlemented fortification with towers at regular intervals and the Barbican gateway at its centre. Walkways were made behind the battlements, to create romantic walks for the inhabitants, and local basalt was used throughout, to give the walls and towers an appropriately somber appearance, though red sandstone dressings were used for the finer detailing of the Barbican. Over the gate, looking out over the bridge, an ancient sandstone coat of arms was inserted. This had originally graced the front of the castle when it had been built by the first earl in 1636, while the other side of the barbican was also given a commemorative plaque:
THIS GATEWAY  WAS BUILT AND THE CASTLE RESTORED BY EDMUND M'DONNELL, ESQUIRE, AND HIS WIFE ANNE KATHERINE, IN HER OWN RIGHT COUNTESS OF ANTRIM AND VISCOUNTESS DUNLUCE A.D. 1825                                               
Morrison designed the Barbican in 1824, the year before it was built, but his plans for the castle were not completed until the 1840s. There have been substantial alterations to the castle since, including the demolition of most of Morrison's wing and the alteration of many windows, so it is extremely fortunate that the Barbican and its surrounding battlements, the finest part of this romantic ensemble, remain intact. It is perhaps worth noting that Morrison and the Antrims called the entrance gate 'The Barbican' so as to emphasise the Gothic fantasy. A medieval barbican was a very strong part of the outer defences of a city or castle, usually the double tower built above a gate or drawbridge. Edmund Phelps and Anne Catherine had no children, so the estate and titles passed to her sister Charlotte's sons and their descendants, while Anne Catherine's daughter, who was a considerable heiress, thanks to her father, married Lord Londonderry.
HOW TO BOOK AN IRISH LANDMARK HOLIDAY :
It is possible to reserve dates online at www.irishlandmark.com but bookings are not confirmed until a confirmation email is received from the bookings desk.
BOOKING:  
Your booking must be for holiday purposes only.  Irish Landmark reserve the right to refuse hire for purposes other than holiday accommodation. When you make a booking, you accept full responsibility for all persons who will use or visit the property during the period booked.  When you book, you agree to indemnify us against all loss and damage arising directly or indirectly to the property and its contents from any deliberate or negligent act or omission by yourself, or any person accompanying you.
CONTRACT OF HIRE:
The hiring contract shall be between the Hirer and Irish Landmark and made subject to these Booking Conditions . The Contract of Hire is not effective until Irish Landmark dispatches to the Hirer written confirmation of a booking.
Click arrival date for cost of stay
A magical stay in Glenarm
"We throughly enjoyed our stay at the Barbican Gate of Glenarm Castle while in Glenarm. The 360 views from the tower were magnificent, including a rainbow to the south on our last night (a good omen indeed!). The small kitchen is perfectly appointed for preparing simple meals, the fireside a perfect place for reading and an evening glass of wine, and the bed and bath made for quiet nights of rest. Being able to walk to the castle gardens and then along the river and seacoast made us feel like we'd stepped away from the world for a few days."
"What a gorgeous little place! So much fun and so very comfortable! We enjoyed the kitchen, had a cozy fire, the bed was very comfy and the bath luxurious! And the walk by the river was like a faery land with so many beautiful flowers, sheep peacefully grazing, and the river looking like it was flowing with Guinness! Absolute magic!"
"We had a fabulous weekend in the Barbican Gatelodge. It has been beautifully restored and is so peaceful and relaxing. This, coupled with the fact that it is also the gateway to one of the most beautiful parts of Ireland ensured we had a weekend to remember."
Alison Wright-Kerr is the House Manager at the Barbican. Alison loves to meet guests and tell them the best things to do in the area.
Local Attractions